Patient and Patient Group Experiences in Ukraine – a Report from PatientView
PatientView is pleased to announce a new report "Supporting Patients in Ukraine" which gathers insights from six patient groups and seven pharma companies, providing a glimpse into the help available for patients and patient groups in Ukraine.
PatientView представляє новий звіт «Підтримка пацієнтів в Україні», у якому зібрано відгуки шести груп пацієнтів і семи фармацевтичних компаній, що дають уявлення про доступну допомогу для пацієнтів в Україні.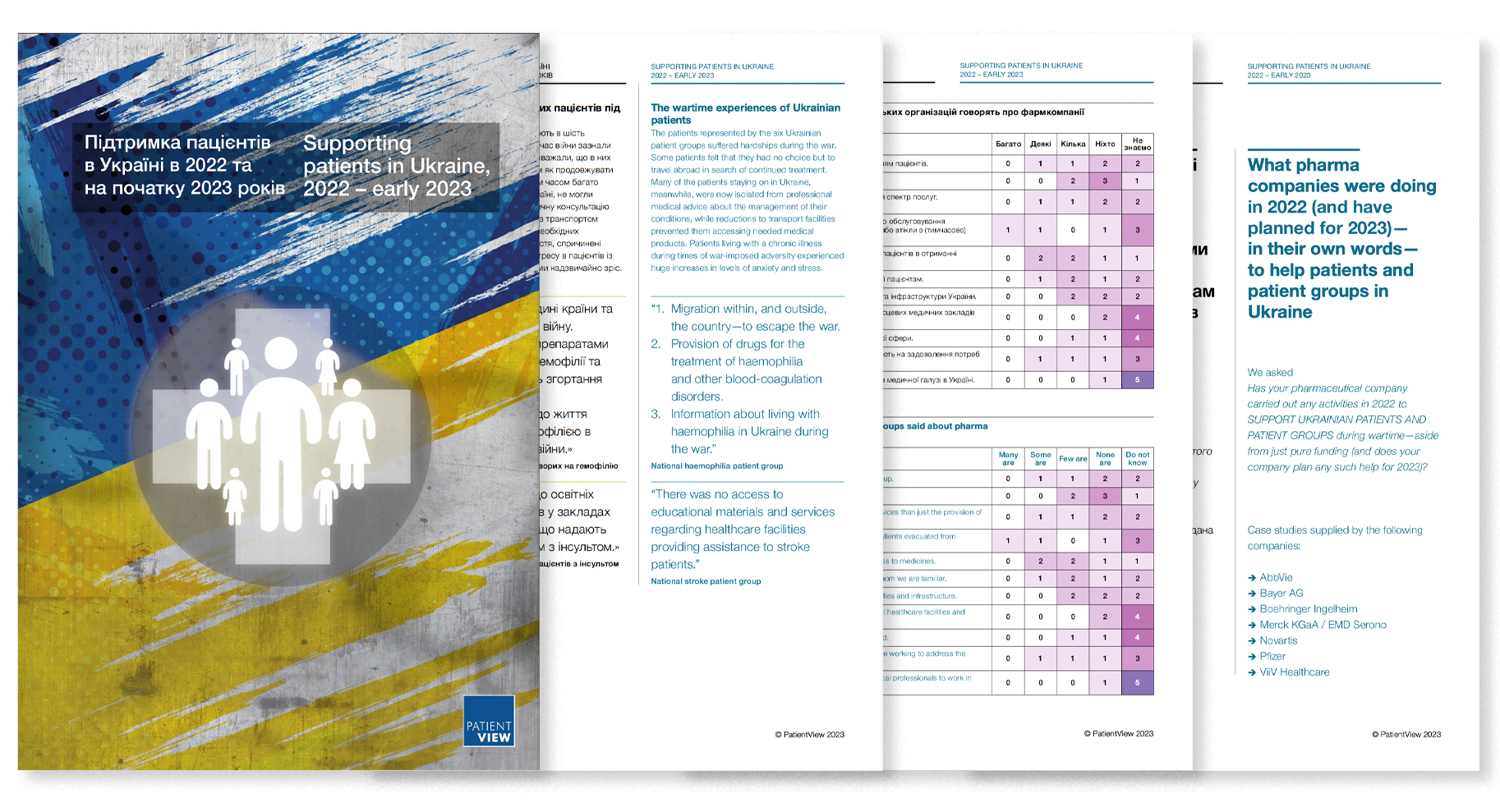 Download the press release and full report
For over a decade, Ukrainian patient groups have played an increasingly active role in the country's healthcare—supporting, and advocating for, patients. Among their key campaigns have been a concerted fight against corruption, and calls for the introduction of a more-level playing field for the procurement of medicines. Ukraine's patient movement has become even more vital to the citizens of a country now gripped by war. Despite facing war-imposed hardships of their own, Ukraine's patient groups have responded to the conflict by stepping up their support to the soaring numbers of vulnerable Ukrainian patients.
By the end of 2022, over a quarter of the country's population had been displaced. Nearly ten months of war had seen Ukraine suffering 707 violent attacks on the country's hospitals, medical infrastructure, and healthcare workers. An estimated one-in-three Ukrainian citizens found themselves devoid of access to medical services.
Against such a backdrop, PatientView decided, in late 2022, to gain a more-detailed understanding of patient, and patient-group, experiences in Ukraine during the war, by undertaking and funding its own research on the subject. Six patient groups from Ukraine participated in the project, offering accounts of the ways in which they were coping with the horrors of war. In addition, seven pharmaceutical companies provided PatientView with information on how they are supporting patients during the war.
You can download the press release and full report below: