All about patient groups and how we work with them
February 2023:
Patient groups are organisations formed by advocates with the goal of ensuring the best outcomes for patients. As one of the only stakeholders to network with every element of the healthcare ecosystem, they are well positioned to provide a holistic view of the healthcare industry but also hold them accountable and drive public scrutiny on key issues.
How does PatientView interact with patient groups?
Over two decades, PatientView has developed unmatched reach with patient advocacy groups around the world – our database includes 40,000 patient groups worldwide across most therapy areas.
We believe patient group voices are important and work to ensure those voices are heard by the pharmaceutical industry.
Every year, we survey patient groups worldwide on the Corporate Reputation of Pharma.The survey and research provide the pharmaceutical industry with the unique knowledge, tools and mechanisms needed to bridge the gap between patients and the industry – creating positive outcomes.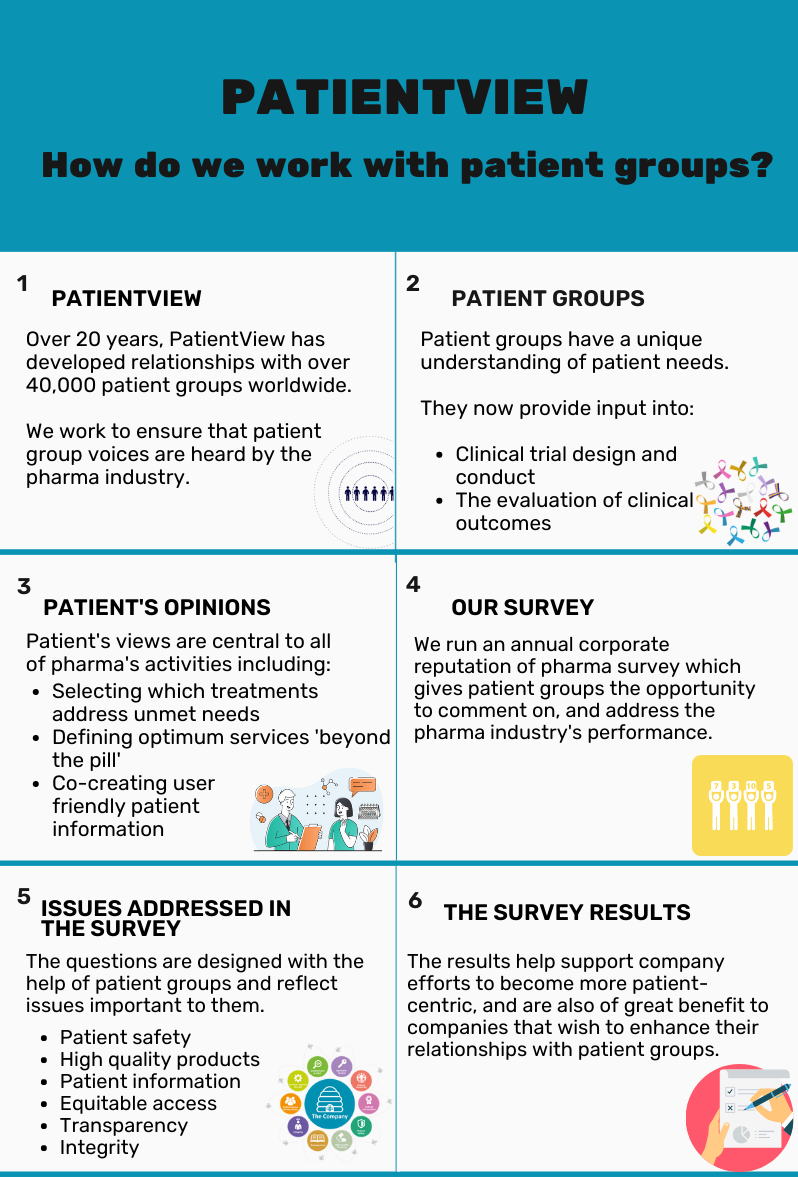 Here are some examples of patient-group feedback on pharma in 2021:
"Involve patients to identify the problems they want solved through new-treatment options. Do not create additional solutions, or expensive drug-delivery devices, that add to the cost, and make the ultimate product out of the reach of many patients." – National skin-condition patient group, Canada
"Think of people with visual impairments when designing drugs and tests" – National visual-impairment patient group, USA
"Developing treatments for patients with mild-to-moderate eczema. Continue to lobby the government about access to psychodermatology services, and the impact of skin conditions (like eczema) on a patient's quality of life." – National skin condition patient group, UK
"Relationship with patient-advocacy groups should be a genuine ongoing relationship, rather than when a new treatment is requiring approvals, and the pharma requires patient/consumer support." –National bladder-cancer patient group, Australia
"More grants to non-profit organisations to support the community in mental health" – National LGBTQ health patient group, Singapore
New Zealand (16 responses)
"Keep us up to date with the latest information on clinical trials―opportunities for participation, results. Let us know what's up 'politically'—that is, relevant information about interactions with the Minister of Health, the Ministry, and pharmaceutical-funding agencies. Support conference attendance by advocates. Provide factual summaries of results with emerging medicines."- Breast Cancer Aotearoa Coalition (BCAC), New Zealand
"Make transparent their latest research outcome and publication." – Pertubuhan Arthritis Negeri Sembilan, Malaysia
JUST A FEW WEEKS to go for your patient group to have its say!!!
Take part in this year's survey and share how the pharma industry should improve healthcare outcomes for patients, fill out the questionnaire here.