Thank you for taking part in the 2022 Corporate Reputation of Pharma Survey
The survey is now closed for responses, with over 2,150+ responses from patient groups across the world.
The first overview report scheduled for publication in April/May 2023 – sign up below to be notified when the first results are available. 
PatientView has been conducting its annual 'Corporate Reputation of Pharma' survey for 12 years. Each year, thousands of health campaigners share their perspectives on how individual pharma companies and the industry as a whole performed during the last 12 months.
This year, we achieved 2,150+ survey responses from patient groups across the world.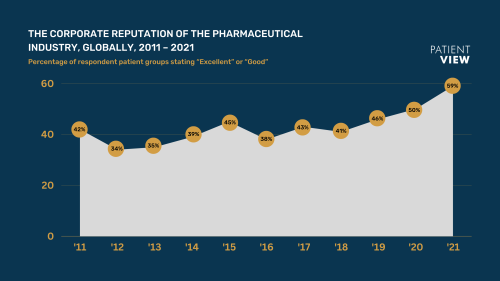 Few studies explore the opinions of patient groups worldwide on whether pharma meets their expectations (and, if not, how might the industry, and individual pharma companies, improve). This survey gives health campaigners and patient-advocacy groups an opportunity to comment on the pharma industry's performance, and a platform to raise important issues in patient care. Patient groups are uniquely positioned to share valuable insights, as they network with all other stakeholders in the healthcare system.
We've also updated our survey methodology for this year's survey, read about the changes and full methodology here.
Some things you told us last year…
Explore more of PatientView's research.