Powerful Patient Advocacy: Advocating for people with rare and undiagnosed diseases
February 2023:
The role of patient advocacy groups has become more consequential as patients and their families take an active role in their care. However, in the case of rare diseases (also known as orphan diseases), this is particularly true. Despite the fact there are over more than 7,000 different rare diseases (excluding those diseases which have yet to be named), individuals with different disease interests have joined forces to create ever-more potent advocacy organisations. The rare disease patient groups are today pivotal in bringing about change in the healthcare landscape worldwide, to improve outcomes for the patients they represent.
In this blog, PatientView is spotlighting the positive impact of rare disease patient groups, by looking at one such organisation Genetic Alliance UK – which advocates for people with rare diseases in the UK.
Advocating for people with rare diseases in the UK
People with rare diseases often face delayed diagnosis, lack of support and information and restricted access to treatment. Patient groups like Genetic Alliance UK have become a vital lifeline for people with rare diseases and their families. The organisation advocates for fast and accurate diagnosis, high-quality care and access to treatment. They also run SWAN UK – a support network for families affected by a syndrome without a name. SWAN UK is the only dedicated support network in the UK for families affected by a syndrome without a name. The group works with UK families of children and young people who are searching for a genetic diagnosis.
Louise Fish, Chief Executive at Genetic Alliance UK, said: "While genetic, rare and undiagnosed conditions are individually rare, taken together there are around 3.5 million people living with these conditions in the UK. Genetic Alliance UK is proud to champion the voices of people living with a genetic, rare or undiagnosed condition in the UK, their families, and the amazing charities and support groups that advocate for them."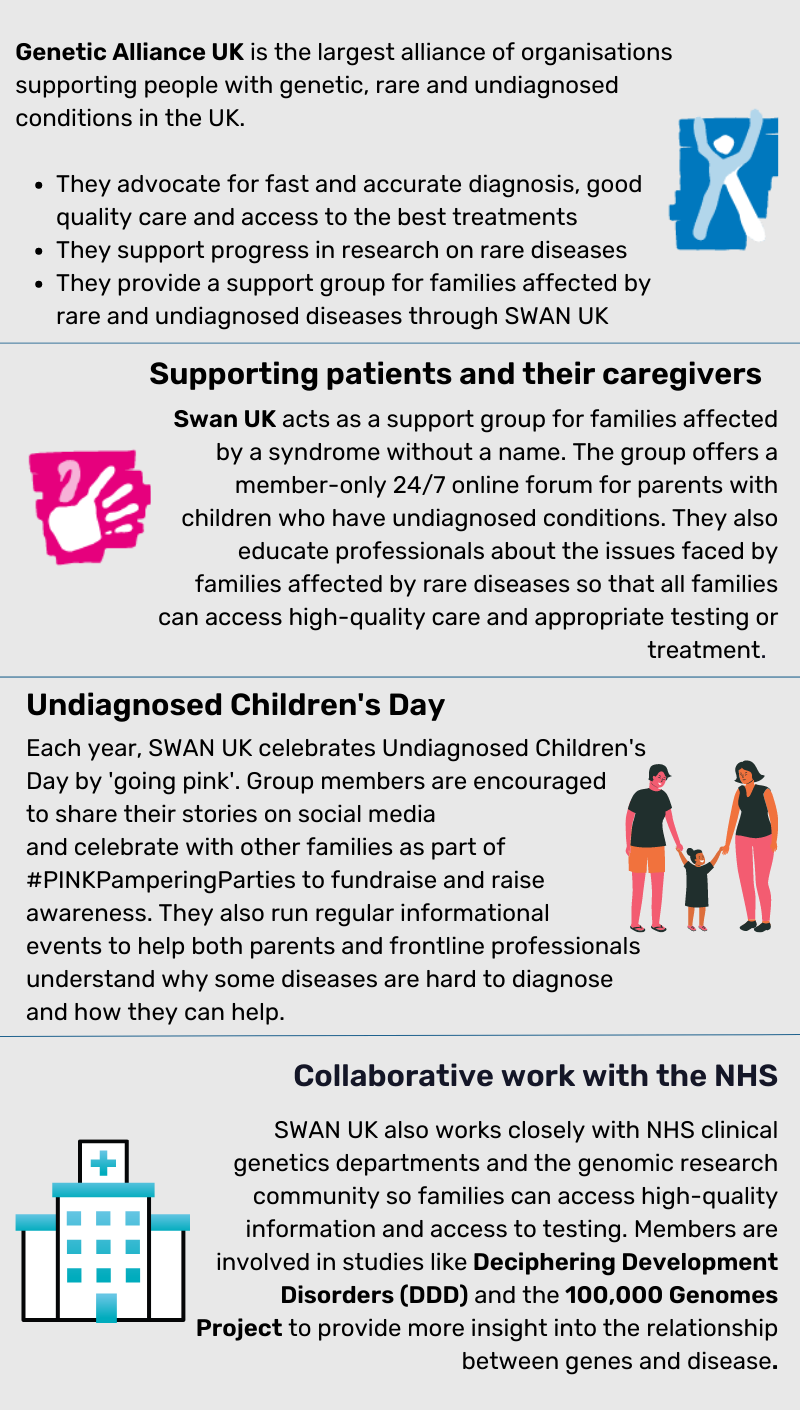 One of the biggest challenges that rare disease patient groups are trying to address is the cost of treatment
Although the full costs of care for rare disease patients are unknown, it's clear that they are a significant economic burden[1]. A qualitative study conducted by Genetic Alliance UK discovered the financial impact on families centred around medical appointments, clinical research, and prescriptions[2]. This concern about the cost of treatment was reflected in PatientView's 2021 Corporate Reputation of Pharma survey – the rare diseases edition of the report, which found just 15% of respondent rare-disease patient groups rated pharma "excellent" or good at fair pricing policies—although this low percentage is on a par with responses received from patient groups in other therapy areas[3].
Building a bridge with pharma and other healthcare stakeholders
The efforts of groups like Genetic Alliance UK and SWAN UK to advocate for people with rare and undiagnosed diseases have largely been successful. In February 2022, the rare disease community and other healthcare stakeholders collaborated with the UK's Department of Health and Social Care to launch the first Rare Disease Action Plan which set out commitments to support faster diagnosis and better access to treatment and drugs[4]. This plan was endorsed by the Association of the British Pharmaceutical Industry[5] – the UK pharma trade association.
Invitation to rare disease patient groups worldwide: tell pharma what you need and expect
PatientView invites patient groups to participate in our Corporate Reputation of Pharma survey and share if the industry has met their needs and expectations and what more they could do, in your area of speciality. Our research provides the pharma industry with invaluable knowledge and insights from advocacy groups to bridge the gap between patients and the industry – driving better outcomes across all levels of healthcare.
To take part in this year's survey, which is available in 22 languages, and share how the pharma industry should improve healthcare outcomes for patients, fill out the questionnaire here.
[1] http://eprints.lse.ac.uk/id/eprint/60809
[2 ]https://www.geneticalliance.org.uk/media/2502/hidden-costs-full-report_21916-v2-1.pdf
[3] https://www.patient-view.com/wp-content/uploads/2022/10/PATIENTVIEW-CORP-REP-RARE-DISEASE-EDITION-EMBARGO-OCT-10.pdf
[4] https://www.gov.uk/government/news/millions-of-people-with-rare-diseases-to-benefit-from-faster-diagnosis-and-better-access-to-treatment
[5] https://www.abpi.org.uk/media/news/2022/february/abpi-response-to-england-rare-diseases-action-plan/