Patient groups will play a vital role in patients getting a timely diagnosis of Alzheimer's disease
June 2022:
The report into this research, and an accompanying webinar, have been released into the public domain without copyright, to support patient advocacy groups that have an interest in the field of Alzheimer's.
Dementia can be a chronic and progressive impairment of someone's ability to remember, think, or make decisions. Alzheimer's disease is the most common form of this, possibly contributing to 60-70% of all dementia cases. It can have a devastating physical, psychological, social and economic impact, not only for those living with dementia, but for their carers and families too. (World Health Organisation, 2022)
According to the World Health Organisation, dementia has reached epidemic levels, with more than 55 million people currently living with dementia across the world and nearly 10 million new cases emerging every year. The condition is currently the seventh leading cause of death among all diseases and one of the major causes of disability and dependency among older people globally.
Without intervention, the future looks grim – estimates suggest those living with dementia will rise dramatically by 2050. As governments and healthcare systems grapple with the growing challenge of Alzheimer's disease and other dementias, a major stumbling block to improved health outcomes is getting a timely diagnosis.
Timely diagnosis is critical to providing better Alzheimer's care. For this reason, PatientView, with sponsorship from Novo Nordisk, has published a report containing the results of new research, entitled, 'Tackling the challenges of getting a timely diagnosis for Alzheimer's disease'.
Download 'Tackling the challenges of getting a timely diagnosis for Alzheimer's disease'.
As part of the sponsorship, PatientView and Novo Nordisk decided to explore the factors that prevent timely diagnosis and what could enable it, by holding an international and interactive webinar in February 2022. Four experts, with different areas of expertise, were invited to share their views with 17 representatives of carer and patient advocacy groups from 10 different countries.
Watch the webinar below:
The four experts who headed up the 90-minute discussion were:
The panel agreed that governments and healthcare systems across the world are failing to provide the resources and investment needed to tackle this universal medical problem.
Of the challenges in attaining a timely diagnosis of Alzheimer's disease, as identified by carer or patient groups during the research, three fell into the category of healthcare systems (and therefore government). These are (1) Lack of, or poorly implemented, national dementia plan, (2) Lack of effective pathways, and (3) Failure to recognise the importance of the third sector (non-profit and voluntary sector).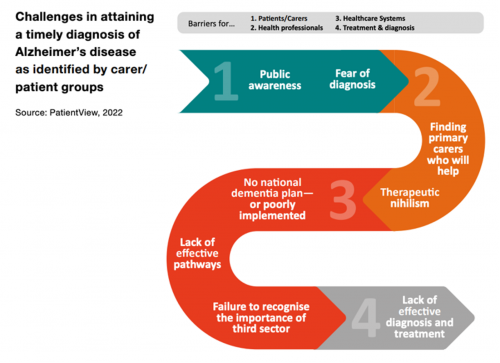 In 2017 the World Health Organization implemented a global action plan for dementia, a milestone which showed the impact that the third sector can have in the field of dementia.
One panellist from the webinar says that although many countries have incorporated this plan, they need to attract government funding to make a real difference for patients and their families. She also adds that a number of their studies have shown a very poor level of preparedness by governments in both high and low-income countries, with some notable, but very few exceptions.
There is also an awareness problem in primary care when it comes to Alzheimer's. Alzheimer's Disease International (ADI) found that 62% of healthcare professionals still believed that dementia was caused by normal ageing. An unwillingness to view symptoms as anything other than signs of ageing is a huge barrier to getting a timely diagnosis. When symptoms are recognised, dementia is a broad term used for over 100 conditions that can affect the brain, making the development of patient pathways within care incredibly complex too.
Despite these factors, patient advocacy groups shouldn't be discouraged. They are well placed between the scientific community and the public to build a consensus on these issues and to translate this into a compelling narrative that governments can understand and will listen to.
The patient advocacy groups who attended the webinar provided a glimmer of hope. When asked in a live poll, 'How confident is your organisation about being able to influence government policymakers in order to improve timely diagnosis?', 67% responded 'confident'.
Patient groups are vital in driving both awareness and change, and this research and webinar has seen that there is motivation to do so. There is a determination to use their position and ongoing work to secure policy changes that will help early and timely diagnosis of Alzheimer's Disease.
Download the report here.
Read how patient groups are shaping the future of healthcare.