Seven paradigm shifts shaping patient centricity post-pandemic
November 2021:
In this blog post we're sharing a preview of the seven paradigm shifts shaping the pharmaceutical industry and patient movement – as identified by PatientView's latest research, 'Being Patient-Centric after a Pandemic'.
At PatientView, we have created and analysed data on the pharmaceutical industry and patient advocacy movement for more than 20 years. By maintaining strong relationships with patient groups worldwide and delivering patient perspectives and insight directly to industry, we're committed to driving 'patient centricity' – and ultimately better outcomes for patients around the world.
Both patient groups and the pharmaceutical industry have responded to rapid change during the COVID-19 pandemic. While pharmaceutical businesses received heightened public scrutiny and awareness of their role as suppliers and healthcare stakeholders, patients faced a wave of delays and cancellations in diagnosis, treatment and care, with many turning to patient groups for support.
Relationships between the pharmaceutical industry and patients are evolving rapidly as the industry responds to changing behaviour and expectations among consumers. Patient centricity is now more important than ever before, and both industry and patient groups alike have an opportunity to work together to deliver better patient outcomes over the long term.
In PatientView's latest research, 'Being Patient-Centric after a Pandemic', more than 1,500 patient groups worldwide share how their reality is changing to provide unique insights on how the industry can respond.
Here are seven paradigm shifts shaping patient centricity post-pandemic:
1. Accelerated medicine innovation and roll-out

The speed with which vaccines were developed, approved, and distributed has never been seen before, and this has spurred on a new sense of what's possible among industry leaders and patients alike.
Novel collaborations between businesses, academia, governments, regulators, and policymakers have pushed aside old boundaries, and the shared sense of urgency has unlocked innovation at a remarkable new speed.
As well as the national and international vaccine roll-outs, new therapeutics such as effective anti-viral drugs have also emerged to give healthcare providers additional weapons in the fight against the pandemic.
These developments have created a renewed sense of optimism, urgency and determination about what can be achieved through collaboration.
2. Health inequalities have been laid bare
The pandemic has exposed and exacerbated pre-existing health inequalities in many countries around the world, and has heightened awareness of the challenges faced by individuals when accessing healthcare within both developing and developed nations.
Access to vaccination still varies by country, waiting lists for public healthcare services shot up among those who cannot afford private care, and COVID-19 itself was shown to impact demographics in different ways.
Around the world, patients are learning that access to vaccines and life-saving care is too often determined by personal wealth, speed of regulatory processes, drug supply chain systems, and a range of other limiting factors which the industry, governments, regulators and policy stakeholders must address.
3. Greater focus on personalised care
Throughout the pandemic, patients have sought accurate and up-to-date information about how both COVID-19 and the new vaccines would interact with their individual health conditions and needs.
In the news agenda we've seen concerns raised by groups such as pregnant women, people of colour, children and young people, those living with disabilities, and older people – all of whom have distinct needs and expectations to take into consideration.
Our research found that the majority of pharmaceutical companies failed to produce information for patients that was tailored for different audiences – partly due to a shortfall in data to do so safely and accurately.
Looking ahead, COVID-19 emphasises the importance of personalised patient care and highlights the demand for accurate and reliable information tailored for a range of different audiences and demographics.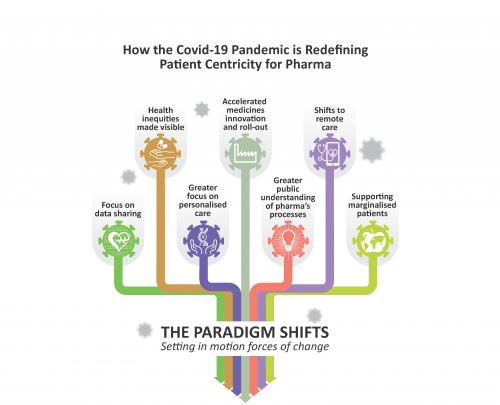 4. Shifting to remote and digital care
Healthcare systems around the world withdrew many face-to-face interactions with patients to restrict community spread of COVID-19 and to avoid overwhelming healthcare providers.
Pre-pandemic, the adoption of remote or digital care – i.e. virtual rather than face-to-face consultations – was evolving slowly, but has now become commonplace with varying levels of acceptance by patients.
Our research suggests the trend for remote or digital healthcare is here to stay and will become the norm in years to come.
5. Focus on data sharing
Our attitudes towards personal, professional and industry data are changing – particularly as patients realise that sharing information can benefit research, economic recovery or a quicker return to normality.
Uploading our personal COVID-19 testing and vaccine status to digital apps, for example, is increasingly viewed as standard practice. In some countries, COVID-19 tests or vaccine passports have already been implemented for venues and transport. Thousands of people globally have also volunteered for medical trials to support the pandemic response.
Within the industry itself, new analytical tools and innovations unlocked by technology like high-powered cloud computing are also creating exciting new possibilities in data sharing and analysis.
These developments mean the near future could see patients, pharmaceutical businesses and healthcare providers working hand-in-hand to improve patient outcomes in real-time.
6. Deeper public understanding about pharmaceuticals
Over the last 18 months, the pharmaceutical industry has come under unprecedented public scrutiny amidst a surge in demand for new, accurate information.
The net result is a much deeper understanding about pharmaceuticals among the general public and a renewed focus on ethical, regulatory and financial aspects around the industry.
This scrutiny also brings an increased risk of misinformation, and it underlines the fact that transparency is more important than ever for pharmaceutical companies seeking to be patient-centric while maintaining a robust corporate reputation.
7. Marginalised groups cannot be overlooked
Throughout the pandemic, patients have experienced delays in diagnosis, treatment and care with wide-ranging knock-on effects, including a drop in cancer diagnoses in some countries and reduced access to mental health services.
Many of those patients have turned to patient advocacy groups to access the support they would normally receive from healthcare professionals. Patient groups have responded positively, taking on more responsibilities and going above and beyond to help as many people as possible.
Conversely, patients have reported disappointment in the level of support provided by stakeholders across the healthcare industry – with only a handful of businesses responding in good time to provide effective support.
Among those patients left feeling marginalised, our research illustrates a new impetus and motivation to engage with and shape the pharmaceutical industry.
These groups cannot be ignored and will become increasingly influential across the patient advocacy movement – it's vital that they are treated as invaluable partners. When patient voices are heard clearly by the industry, we can deliver better outcomes for all.
To find out more about 'Being Patient-Centric after a Pandemic', please contact Mat Philips at PatientView.